Fast, Easy, Flexible Performance Management for any Organization
At HelloTeam, we understand that Performance Reviews and Goal formats vary from company to company. That's why we've created a platform with flexibility at the forefront. We will help you create a process that works for all employees across your entire company, for every team, every role at any location.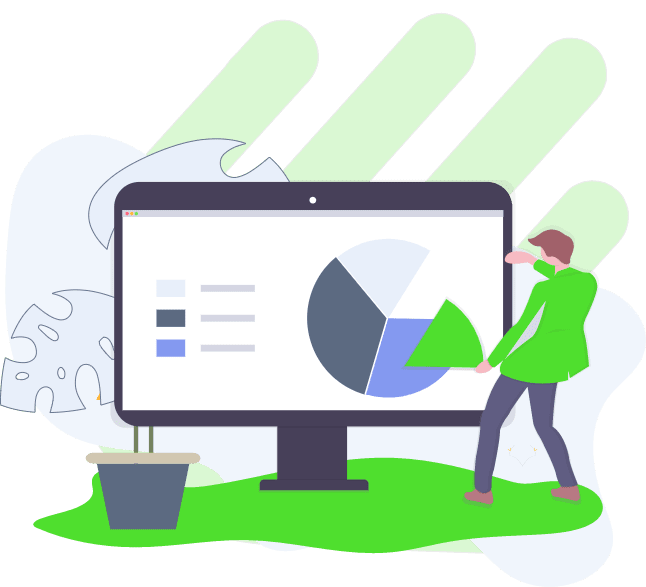 50% of companies that review performance and goals on a continuous basis are in the top quartile of financial performance. ~Gallup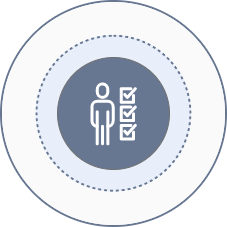 Flexible, automated performance reviews, configurable for any cycle or process.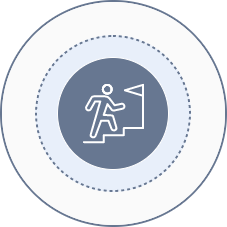 Document, share, and track progress against goals that align with your business and culture.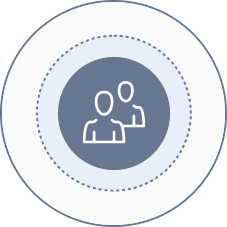 Schedule and document recurring one-one's for continuous coaching and feedback.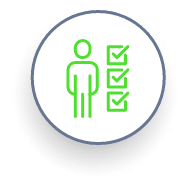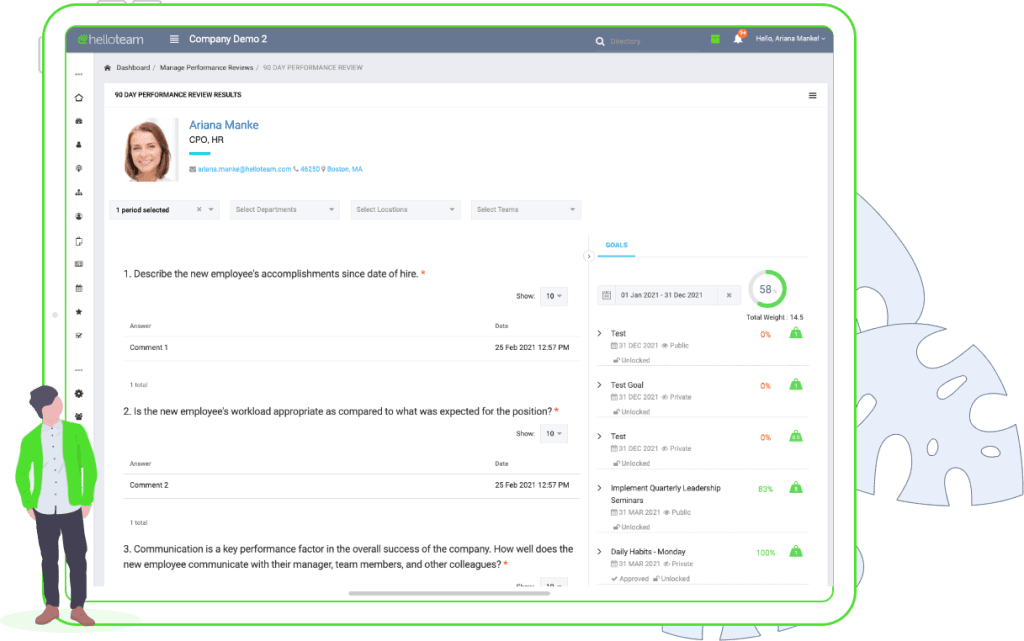 Re-evaluation Evaluations
Consistent, fast and impactful review cycles that offer insight into how employees contribute to your company's mission, and increase motivation, accountability and productivity.
Performance Reviews including 360's
Get valuable feedback from a broad set of perspectives and vantage points
Ensure alignment by enabling employees to participate and share their perspectives in the review process
Help managers understand their strengths and areas for improvement
Use our predefined set of criteria, questions and ratings, and start gathering collaborative feedback in a matter of minutes
Flexible, Accessibility and Automation
Multiple review methods including 360, Anniversary, Annual, Bi-annual, Quarterly, etc. Accessible via mobile. Automated reminders and completion status/tracking views.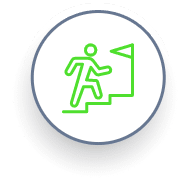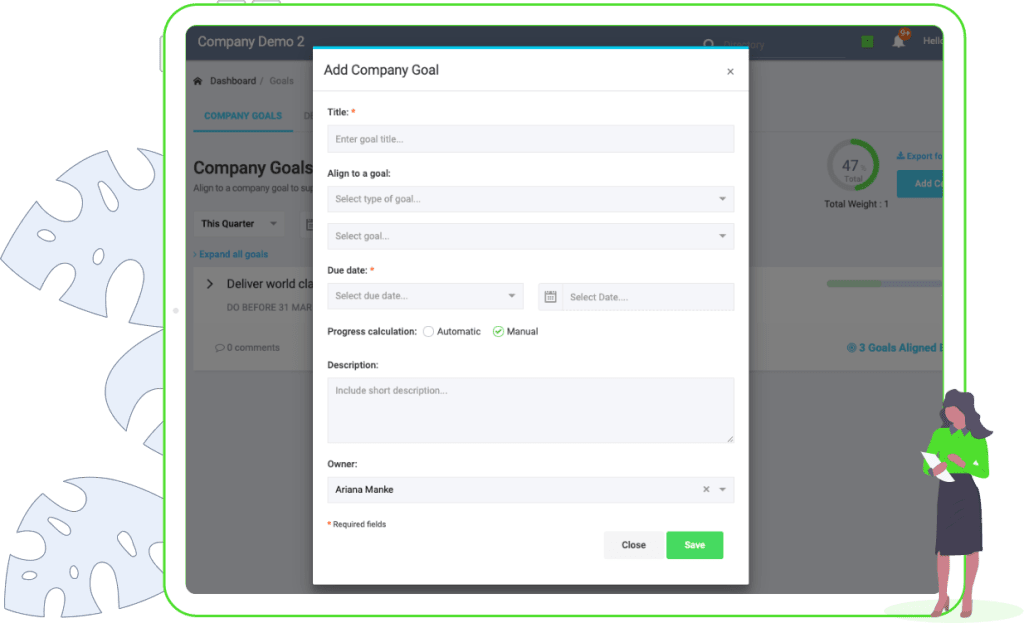 Company, Team and Personal Goal Tracking
Enable employees to understand how their 
goals align with the company's mission.
Create company goals with description, due date and key results that can be applied to teams and individuals.
Due Dates enforce Accountability
Set up monthly, quarterly, yearly and custom company goals.
Document and share status, mark as complete or edit/copy/delete key results.

Performance Reviews and Goals
Performance and Goal Alignment
Performance management and goal tracking offer insight into how employees contribute to your company's mission, while simultaneously increasing productivity, accountability, motivation, and 
inspiration.
Review Options to Fit Your Process
We will help you zone in on the perfect review type that fits any process and any review cycle schedule. Identify, develop and retain exceptional people with Annual Reviews, Anniversary Reviews, Quarterly Reviews, Monthly Reviews, 360 and Peer Reviews, and more.
Consistent Development Discussions
Grow the manager-employee relationship and
provide the developmental support employees crave.
Keep the conversation going with your teams with
the flexibility to create weekly, monthly or quarterly performance check ins.
People Friendly Performance
Avoid the dreaded performance review process with a solution that is fast and easy for both managers and employees. Our seamless user experience eliminates complexity and confusion for better user adoption and more timely, accurate reviews.
Empower Employees to Set and Track Goals
Employee Self Assessments can quickly and easily document, share and track progress against goals, and managers can cascade company goals for better clarity, communication and purpose.
Continuous Visibility and Referenceability
Customize goals as visible to all or just you and your manager. Constant access to past and present goals allows employees and managers to track their progress, and stay focused.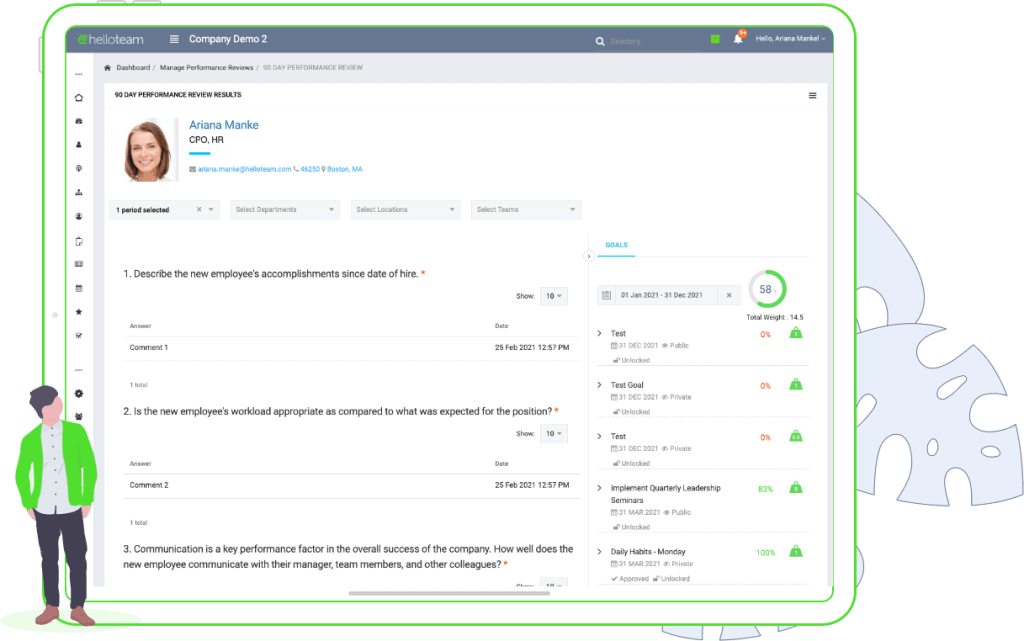 Consistent feedback is the optimal way to course-correct your team and keep each team member informed on their progress. HelloTeam's One-on-One Meeting feature facilitates planning, scheduling, and tracking their continuity and content.
Regular One-on-Ones plug you in to the progress your team is making on their projects in real time, which in turn inspires them to go the extra mile as they report back to you with the week's details.
Continuous Coaching and Alignment
Updates on your staff's weekly progress allows
you to both applaud their achievements and guide their projects with continuous feedback. The more you know about the work your team is performing, the more you can help them stay on track.
One-on-Ones not only teach you about your staff's productivity, but about them as people. Discover what motivates them, learn some of their interests, and get to know them as individuals.
Scheduled for Consistency
With HelloTeam, you can schedule weekly one-on-ones with the push of a button – no more intimidating emails or calling out your office doorway. You can even set them while on the go with the HelloTeam mobile app!
Convenient for Managers, Easy for Employees
Talking Points ensure focus and structure for each meeting with prompts and agenda items for continuous coaching.
Meetings arranged in HelloTeam can be set and made visible in any calendar or schedule tool
Our platform allows easy logging of one-on-one records, data, and notes, allowing you to reference past meetings down the road.
Continuous Feedback Drives Performance
Implement a framework for performance and goals that sets clear expectations and offers a structure for setting objectives, initiating performance conversations and offering timely and consistent feedback.
Develop and motivate high potentials
Inspire and retain top performers
Simplify and accelerate cycles for managers
Digitize and Automate for HR Productivity
How to Master Performance Management
Everyone knows how effective employee engagement strategies are for boosting employee retention (especially us), but did you know that smart performance management strategies can work just as well to curb turnover?
That's right! Even though performance management is seen as the less "fun" element of leadership, the fact of the matter is that a great performance plan can still motivate your team and help them feel committed to their position. A bad performance plan, however, can be disastrous for productivity and employee retention.
So what exactly goes into a great performance management plan? Well, every industry has their own set of particulars when it comes to a day on the job, but no matter the workplace a manager finds themselves in, their performance program can and should incorporate these five elements: goal setting, performance reviews, one-on-ones, 360° feedback, and a online workplace community that ties it all together.
You may casually be implementing a few of these already, but it's critical to act intentionally with your performance leadership strategies to take your business over the top and boost employee retention. Let's explore ways to master these five elements of performance management.
Goal Setting that Works
The first step, as always, is to set goals. At face value, this seems like the simplest step; telling your team what to do for the day is second nature for any manager, right? Well, that's exactly where people-leaders get tripped up! Goal setting isn't about delegating tasks for the day or the week – it's about creating a plan that consists of actionable markers to hit leading up to a greater objective. As we'll see, you have to get… S.M.A.R.T… about it.
There are plenty of factors that separate a great set of new goals from a bad set, including format, intentions, and the way they're coached. Here are some of the best approaches to long-term goals:
S.M.A.R.T. goals or OKRs?
Formatting your goals is especially important when they're longer term, as you have more factors to keep in line. An objective like, "Sell 500 bundle subscriptions this year," is doomed without more contextual information to support it.
That's why several popular goal strategies have arisen over the last few decades, including SMART goals, developed by Robert S. Rubin. SMART is an acronym that stands for Specific, Measurable, Achievable, Relevant, and Time-Bound, denoting the type of goals you should be striving to set. When actually writing out the goal, fill out this mini-template:
Action Verb -> Results in Measurable Terms -> By When
Example: Lead two ad campaigns that help generate leads for & sell 500 bundle subscriptions by 2023
Another massively popular goal-setting strategy is the OKR method, developed by Andy Grove. OKRs, which stand for Objectives/Key Results, are designed to give a structure to long term plans like New Year's goals. First, you create an Objective – a clear destination that will propel your business forward. Underneath, you construct three to five Key Results – measurable, specific goals that your team can achieve in order to further your Objective.
Think of the Key Results as steps to completing your one-year Objective. What sets them apart from a basic step program, though, is the importance of Key Results being measurable and completable. 
Example
Objective – Clear our physics program for launch by the end of Q4
Key Result 1 – Develop a debugging tool for physics simulations
Key Result 2 – Finish a complete design for the program's user interface
Key Result 3 – Release a beta build to select customers in Q3
In this case, you might want to launch your program by the end of the year, but that alone is too broad of an objective. That's where your Key Results come in, demonstrating why the OKR method is a great choice for your New Year's goals.
OKRs and SMART goals may be somewhat similar, but you'll get a great picture of which method works best for you once you lay out exactly what you want to achieve and when.
Tracking Your Goals
The biggest mistake a lot of people-leaders make is "setting and forgetting": neglecting to follow up on goals throughout the year. Periodically reminding your team and/or putting your goals up on the bulletin board may be a step in the right direction, but it's not nearly enough.
Always check in on goal progress in both one-on-one and team meetings, especially when you have OKRs with shorter term Key Results. Your employees will definitely focus on furthering goal progress more when they know they'll be reporting their status each week.
While you're leading these meetings, remember to encourage your team members to ask for support along the way if they have questions or need assistance. You don't want employees letting issues unravel all week until they get to talk about them at the team meeting, leading to missed deadlines and confusion. Nip any hangups in the bud right away.
Finally, make sure to track progress on goals publicly. Even if you're not looking at Key Results in your OKRs, you probably know what steps can further your year-end goals and what checkpoints are good to hit at the end of quarters. When your whole team can see what parts of the mission are chugging along and what parts are falling behind, they'll be able to rally to fix what's not working and get the train back on track.
You could even consider promising incentives to your team if they reach their objective, whether a large one at the end of the year or smaller ones once they hit Key Results/quarterly goals. There are no bigger motivators than incentives and recognition, especially when it comes to employee retention – nail both to motivate your team and boost your company's culture.
In-person teams will be able to discuss and track goals in meetings or on a community bulletin board, but as we all know, the typical office environment has become a lot rarer this past decade. If you've got a remote team that you wish you could bring together in the same way, there's a lot of goal-tracking software available digitally that helps you do just that. We'll get to that a little later…
One-on-ones that engage and retain
Between developing a culture, motivating your team, and providing crucial feedback, it's easy to see why individual meetings are becoming a primary means of communication for people leaders in modern workplaces. Effective communication is pivotal to employee retention and performance management, and that communication starts with the one-on-one.
One-on-ones seem simple on the surface, but there's a lot that goes into really nailing them. Getting them right is important, as it's the difference between enabling/aligning your workforce and just wasting their time. You'll know when you've hit a great stride with your weekly meetings – you might even see it reflected in your company's productivity. 
There are countless tips, tricks and techniques to developing a perfect groove for your one-on-ones, and so there's far too much to completely cover here. That's why we wrote much more about one-on-ones strategies here and here. 
Of course, everyone works and leads differently, so certain techniques will sync better with certain leaders. To remedy that, we simply created a comprehensive list of pieces of advice that you can weave into your meetings. There's something here for everyone, whether you're a leader or an employee yourself.
Start personally and ask about their day or well-being

Bring your own checklist on things you want to discuss and assign 

Ask for updates on projects, tasks and their general responsibilities

Listen intently to what they have to say

Applaud achievements 

Suggest ways to go above and beyond 

Discuss challenges and solutions to the roadblocks they've found 

Never skip constructive criticism

Let your team in on company updates and organizational news 

Ask for feedback from them and suggestions on improving the workplace

Plan ahead and discuss any upcoming projects

Assign at least one concrete task

Create a routine out of the meetings

Don't stretch for time

Mastering one-on-one meetings isn't as simple as some think, but when you concentrate on making the best of them, they can be a powerful way to engage your team while managing their performance.
Performance Reviews
Performance reviews are an essential part of managing a workplace effectively. As vital as they are, though, the formal performance review carries with it a weight of notoriety and dread. Employees fear comments of undeserved reproach, and managers fear the discomfort of criticizing the team that they work to build a good relationship with. That's why they can make or break your employee retention plan.
As some of us have experienced, there are certainly less optimal strategies to employ during a performance review. You don't want to be soft on an underachieving employee, but you can't run them out of the room either. Focusing on chastising underachievement instead of encouraging overachievement is a recipe for stagnation among your team – this is the time to enable them to succeed going forward. Your mission isn't as much performance "management" as it is performance "enablement". 
Performance enablement can keep productivity high, culture strong, and employee retention consistent. Carrying out performance reviews incorrectly, on the other hand, can actually do more harm than good – an APA study revealed that productivity actually lowers after performance reviews about ⅓ of the time. 
There are countless ways to avoid that drop in productivity by keeping your performance review constructive while maintaining a friendly countenance, no matter who you're talking with. An effective round of reviews can be the difference between high employee retention and high employee turnover.
Provide clear examples
We've all sat through vague performance appraisals that leave us feeling even less clear about our progress than when we started the meeting. Your team members have plenty of specific memories about what worked and what didn't over the last quarter/year, and they'll be listening for what you have to say about them.
So, be specific! Remark upon ways they've improved, moments they've shown leadership qualities, and any other times they've demonstrated certain characteristics during meetings and projects. The ability to recall specific anecdotes both shows your team that you truly pay attention and helps them understand what they should continue and what they need to improve.
Don't evaluate everyone in the same pattern
Naturally, when giving performance reviews to a team that works together and talks about their experiences, you would want to remain consistent from person to person. However, that can lead to an all-too-common trap: the "compliment sandwich".
This is a method of feedback where you begin the discussion with some praise, include constructive criticism in the middle, and end it on a high note with more compliments. In practice, this works for some employees very well; many people are reliable workers with few areas to improve in. The mistake is made when you get used to handing out compliment sandwiches and then apply the formula to everyone on your team.
If you have a couple of underperforming employees on your staff, you'll end up reaching harder to find compliments and condensing your criticisms to the middle. Even if your criticisms were valid, they'll likely leave under the impression that you see them as an average worker, and won't make an effort to improve because they got a solid amount of praise.
At the same time, don't be afraid to give your best performers a more glowing report. If you dig to find criticisms to complete the template, he or she could leave discouraged because their extra effort didn't earn them a great review. 
Dick Grote, author of How to Be Good at Performance Appraisals, notes, "Most people are good solid workers, so for the vast majority, you should concentrate exclusively on things the person has done well."
Don't skew your reviews to fit a pattern, but tailor them to reflect on exactly how well the person is doing.
Refer to the data first
A 2019 study by Princeton University found that the average person will assume someone is a more effective worker if they're wearing nice clothes and have attended a prestigious university. Without knowing anything about their skills, the first impression was convincing enough.
Sometimes as a manager, you can find yourself assessing your team on the surface without diving into their actual performance. You may have some members of your team whose qualifications and overall persona have pigeonholed them in your head, for better or for worse.
Always go deeper. Perhaps their sales have been among the top of the branch, or perhaps they've been tapering off lately. If your business is less numbers-oriented, you can also reflect on their participation; have they been checked out or dialed in? Have they been knocking their goals out of the park or barely meeting expectations?
This not only gives you an accurate impression of how valuable they are as a team member, but it's also evidence that's much easier for them to accept during the one-on-one conversation, as they know you've made an effort to be free of bias. If you claim that they've been falling behind and you show them the evidence in the data, they're likely to understand.
Utilize 360° feedback
360° feedback is a catch-all employee retention strategy that works to both boost employee engagement and refine performance management. In fact, hold on… feedback is so important that we're going to give it its own number!
360° feedback
Companies that implement regular employee feedback actually see their turnover levels drop by an average of 15%. What do we mean, though, by 360° feedback?
Well, that traditional style of managerial feedback that diatribes were written about in the 20th century is just 180° feedback from supervisor to employee. No matter how adept you are at relaying evaluations to your team members, you'll never get the most out of your meetings without making it three hundred and sixty degrees.
360° feedback is feedback from employee to manager. It's feedback from manager to employee. It's feedback from a worker's peers and supervisors about their aptitude and quality of work. It's feedback that's completely holistic and takes all points of view into account to truly  give you perspectives you wouldn't have otherwise had access to. 
It's easy to see how you might utilize this in your performance reviews. You may find yourself giving a performance review to an employee who reports to multiple different supervisors, whether indirect managers, team leaders, or HR advisors. If you feel like you need a more holistic idea of this person's productivity, it's always a good idea to ask around and crowdsource feedback.
A team leader might tell you that this person missed a couple deadlines on a particular group assignment, and you might remember they also recently missed an important one for you. Now, you shouldn't tell that employee, "So-and-so told me you were missing deadlines on that project." That creates an air of mistrust, as the person now feels that their teammates are talking behind their back.
Instead, frame bad feedback you hear in a more general sense. They're aware the criticism is true, but since it's non-specific, they won't get the impression that comments about them are circulating the office. Simply say something like, "You've been having trouble getting things in on time, and it shouldn't continue. How can I help?"
If you ask around and their other teammates have good things to say about them, e.g., "I watched them put in a lot of extra effort to land three big clients in a week," you can absolutely feel free to let them know you heard about it and commend them for it. They'll leave feeling recognized and motivated to continue the extra effort, knowing you'll probably hear about it. Hearing more from their peers is always a good idea, as long you know how to pass along the information.
Lastly, to complete the 360 degree circle, you should let your team review you, the manager/HR professional.
It can be frightening, we know, but encouraging your team to give honest feedback builds a trusting relationship, boosts engagement & employee retention, and it can also help you become a better leader. It works quantifiably – a Gallup study found that managers who received feedback on their strengths and weaknesses showed 9% greater profitability after the review. 
A great way to gather this feedback, whether about you the people-leader or the workplace as a whole, is a consistent employee survey strategy that lets you customize what questions you ask, the way you ask them and who you send them to. This lets you be extremely versatile in the ways you get feedback and ideas from your team, whether they're voting on a yes-or-no or showing their feelings on a sliding scale. A group survey utility can help you in all sorts of scenarios, as we'll see in just a moment…
A Social Community Platform
Performance management and employee engagement go hand-in-hand; you can't run a successful business without mastering the two. The issue countless HR departments and leaders face is finding a way to bring them together organically, emphasizing performance management while maintaining engagement and employee retention. The answer is an online social community platform. 
A social community platform is every HR pro's dream. It's an employee intranet that brings the best of both worlds onto one dashboard for all team members to interact with. It's especially crucial for hybrid teams whose culture has become split by the difference in location – bring everyone into the same culture using an online solution.
A great social platform will have plenty of engagement features, but we're here to talk about performance management. Can it really help you with all the ins and outs of leading your team?
Well, why don't we start at the top? Goal-tracking features should be critical in a market-leading social platform, and some are even specifically set up for OKRs. Tracking goals becomes a lot easier and more engaging when you can log progress over time on your computer/mobile device.
A platform like that should also have a complete solution for one-on-one meetings and performance reviews. You'll be able to simplify, automate and coordinate all these meetings by allowing you to schedule them on a cadence, include preview questions or agenda topics, and take notes that stay logged for future reference. It'll be easier to stay organized and to meet with your remote team over video chat the same way you do your on-site team at your desk. If you and your team work in a deskless environment, it should finally bring you to the level of meeting organization that's so difficult to obtain in a hybrid landscape.
Performance review tools aren't the only thing that facilitate feedback – look for a platform with a dynamic survey feature that lets you customize the format, audience and anonymity of your questions. Use it to ask for 360° feedback, insights into professional progress, or just some casual ideas for workplace amenities.
Now that you know, we have some advice: don't start searching for solutions just yet. You may have your answer right here: HelloTeam.
All of these solutions and more can be found on HelloTeam's dashboard, which is what sets us apart and makes us a true employee retention platform. Workers can fill out surveys, give feedback, update goals, ease into meetings, congratulate teammates, redeem rewards, and far more all on one screen. We open the door to a much higher level of productivity, engagement, and profit. 
We also made sure the HelloTeam dashboard is consistent for both team members that work from home and those that work on-site. Whether on your desktop or phone, you can schedule meetings, track goals, and do everything else with any employee no matter where they operate from. We're a social workplace community that simulates a professional environment that works for everyone.
Building a complete employee retention plan can be a daunting task, we know. We're here to help. Request a demo of our platform to give your team the tools it needs to beat turnover.