The season is changing and it's getting darker earlier, which can only mean one thing: a new G2.com report is here. We're always proud to release our quarterly rankings, but we're extra proud to say that we knocked it out of the park this winter! HelloTeam once again received a record number of accolades in G2's Employee Engagement and Performance Management categories, with some being the highest honors in the field.
As a trusted peer-to-peer review site, G2 ranks the best software products on the market every season largely based on the reviews given by consumers. With each great review that recognizes HelloTeam's impressive usability and customer-centricity, our platform works its way up the G2 ranks.
Thanks to the glowing reviews our employee retention software has received from our customers, we average 4.8 out of 5 stars on G2.com with almost 200 user reviews and we've nestled ourselves firmly among the highest ranking software on the market. Out of 34 total categories, we were Top Five in 6 and Top Ten in 14, often against 100+ competitors. Some of our featured accomplishments for the Winter 2023 report include:
Category Leader
Best Results
Best Support
Easiest to Do Business With
We are also a leader in the top 20 performance management tools.
We're also continuing our success as an employee retention platform overseas – for the fifth straight quarter, we've earned a "High Performer – Europe" award for our popularity outside North America. Thanks to our international acclaim and our continued high ranks across performance indices, G2 awarded HelloTeam 16 extraordinary badges across several categories, including: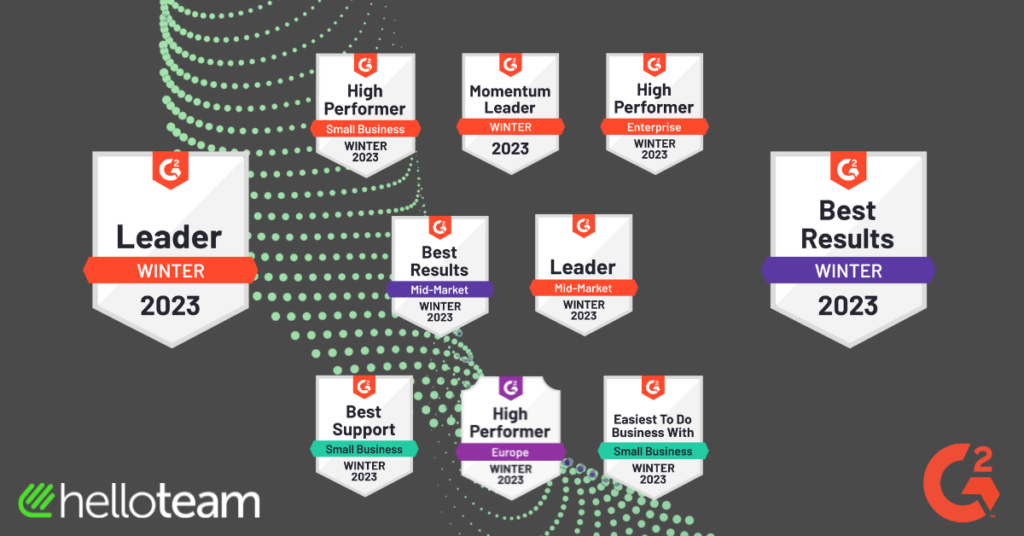 "We are all humbled by the Winter 2023 reports. As a CEO, it's so gratifying to see our customers recognize the efforts of our sales, marketing, and development teams." said Tanya Bakalov, Founder & CEO at HelloTeam. "I'd like to thank all of our fantastic customers for taking the time to leave honest feedback in their reviews. We love reading them!"
The workplace has never evolved as quickly as it has over the past two years, for both desk and deskless workers. HelloTeam's system has been engineered to perfectly fit today's mix of remote, hybrid, and in-office companies without sacrificing any engagement or productivity. We're an employee retention platform that's actually built for the employee.
Our unique combination of connected goals, continuous performance management, manager-employee one-on-ones, learning, engagement surveys with instant people analytics, and real-time peer recognition empowers every employee to connect with and contribute to their culture wherever they work. This drives employee retention while making HR teams and managers more productive, giving your organization the competitive edge it needs.
If you want to improve retention, build culture, and engage your workforce, you can schedule a demo with HelloTeam right here — see what all the buzz is about!
Thank you to our dedicated customers, G2, and of course, our world-class Service and Sales team for the continued recognition. See you next season!