Beat the Great Resignation and Join the Great Retention!
The Great Resignation is the biggest challenge to modern workforces, and its solution is boosting employee retention through engagement and a strong culture. Retaining workers requires a platform built for every
employee
– when your solution benefits management instead, your teams become disengaged. 
Lower your turnover rates with a retention platform designed to engage your team, boost their productivity, and retain their talents. Take a tour of the one TRUE employee retention platform today!
Beat the Competition with High Employee Retention
WORKERS QUIT THEIR JOBS IN 2021
OF A person'S SALARY IS THE COST OF REPLACING Them
OF REASONS FOR TURNOVER ARE PREVENTABLE
OF companieS THAT PRIORITIZE THE EMPLOYEE EXPERIENCE HAVE HIGHER RETENTION
"Utilizing HelloTeam, we've been able to gain insight on our turnover and retention rates, and it's helped us come up with strategic plans to help with those rates."
-G2 Reviewer
Communication is the driving force behind progress within your company.
A healthy culture is vital to employee retention – ⅓ of early quitters cite a bad culture as the reason.
When employees are consistently recognized for their accomplishments, they're 2.7x more likely to be highly engaged. Engagement leads directly to retention.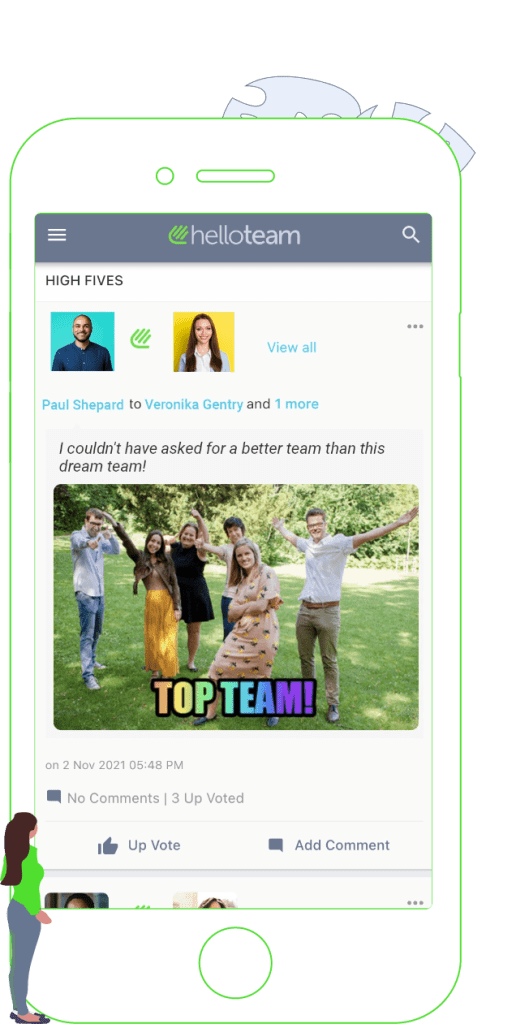 The HelloTeam platform is integrated with Slack and Microsoft Teams, bringing the retention features of our system right into the messaging features of your system.
Set up recurring one-on-one meetings that let you deliver feedback, updates, or just casual chit-chat with your staff.
Do the same thing with Performance Reviews and let the HelloTeam platform facilitate self evaluations and 360° feedback.
Use our News and Events section to update the team on news bulletins, upcoming events, and accomplishments from around the organization.
Per Gallup, the #1 reason people leave their jobs is a lack of recognition – use our High Fives and Badges tools to boost employee retention.
A Culture of collaboration
Use our Skills Matching features to arrange the best teams to tackle tasks tailored to their talents.
Bring your remote teams to the same table as your on-site teams with our online social community platform.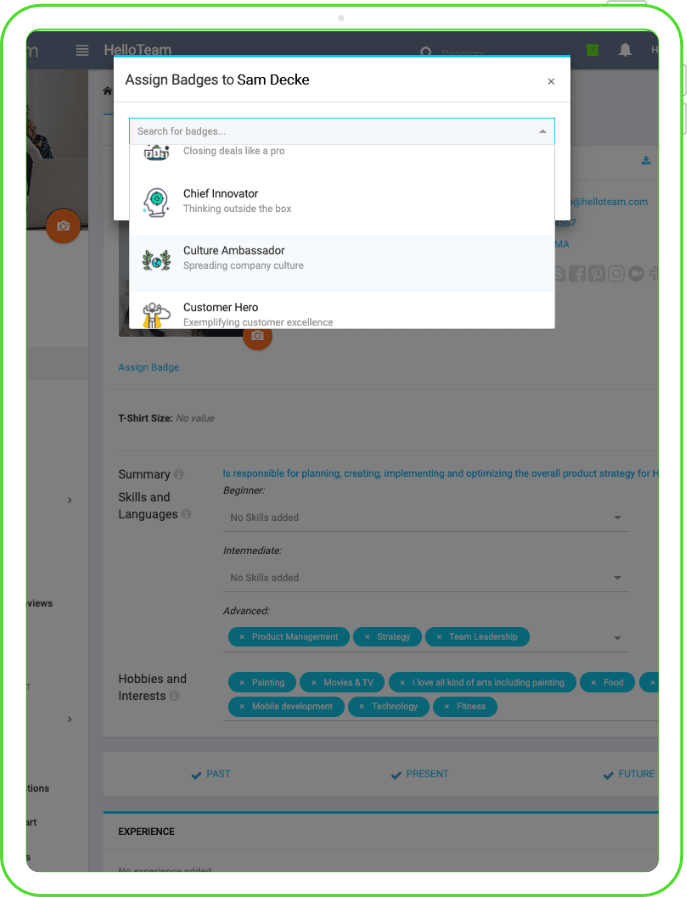 Millions are leaving their jobs due to a lack of recognition and are looking to switch to a company that promotes it. Celebrating your team for their accomplishments and tenure – and even their birthdays – will do just that.
Give High Fives and badges to teammates for jobs well done! Drive motivation and engagement with crowdsourced peer recognition.
With HelloTeam Rewards, you can accrue rewards points based on High Fives you receive. Redeem them for prizes, events and more!